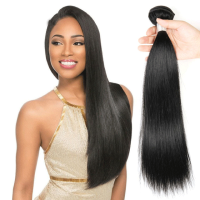 100% Unprocessed Brazilian Virgin Hair Straight 3Pcs Human Hair Extensions 7A Grade Brazilian Virgin Hair Human Hair Weave
$155.61
The hair arrived a few days later. It was beautiful.I'll buy it again
The hair is soft and it smell good .
Excellent communication! I received my package in 4 business days!!
I love my hair. It feels soft and amazing. I had good communication with seller. She was very friendly and helpful. I was able to get a good discount on my purchase. It it was delivered in a timely manner.
Shipping was fast . Seller stayed in contact the entire way which was great because I was too busy to check on it . Hair is sooooo soft no smell . Getting installed today will do a update review in 2 weeks
This is my second time ordering from this company and once again they never fail to satisfy their customers. Received the hair about 2-3 days after ordering. After a month of wearing the hair- the hair is still in outstanding condition. I bought kinky straight in 18 20 20 inches. The hair to this day barely sheds which is a big deal for me. The hair is true to length, and There is no problem with tangling. I co-wash the hair once a week. The hair looks as it did the first time I received it. I will continue doing business with this company and highly recommend them to everyone
The hair is very good , I would definitely recommend it.And service is nice.thanks
The hair was definitely as described. I have had the hair installed for about two weeks now and its holding up really well, I did a lot of processing to the hair and its still good. Minimal shedding, still has body, its good hair. I definitely plan on purchasing from this vendor again
This hair is absolutely fabulous!This was my first time ordering hair from this company and it was extremely amazing. The packaging was wonderful. Each hair came in a separate bag, but was in one package.
love the hair!!! The bundles are thick and so soft.The seller was very informative and kept me up to date with the process. That was very helpful! Thank u For sending me the gifts!!!
Product is recommendable.Great quality hair and great price for hair. Soft, manageable, and few to no tangling. I would definitely purchase again.
Customer service was the bomb and the hair was extremely soft.they keep in contact with you throughout the entire process making sure that you're a happy customer. I'm very pleased.